Enjoy shopping Japanese traditional crafts here at EENY JAPAN online store!
We are a trading company located in Tokyo, Japan. Since our establishment in 1978, we have had a lot of positive feedback from our customers and business partners all over the world. We are happy to introduce various kinds of attractive products from Japan!

Visit our eBay store, too. »»» eBay

On some of our merchandise we can have requested letters engraved or laser marked.
Products with the original words or sentences must be very special gifts for your precious people.
Also they are highly recommended for promotional and cooperate gifts if your company name is shown on them.
Please feel free to contact us for details.

Business Hour: 9:00 a.m. - 5:30 p.m. on Monday to Friday. Closed on Saturday, Sunday and National holidays.
National Holiday: Please note Jan.14, Feb11, Mar.21 in 2019 is Holiday!

LAST UPDATED: Nov. 1,2018

SEASON ITEMS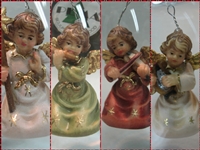 We manage another online shopping site "Yahoo shopping" for customers in Japan.
At Yahoo store, we introduce overseas valueable items to you.


Click picture to go to Eeny-Japan Yahoo shopping!